User Permissions by Security Level
User Permissions by Security Level

There are two possible security levels for ReviewTree Users: Standard and Admin.
Below is a matrix of the permissions each security level can do within ReviewTree: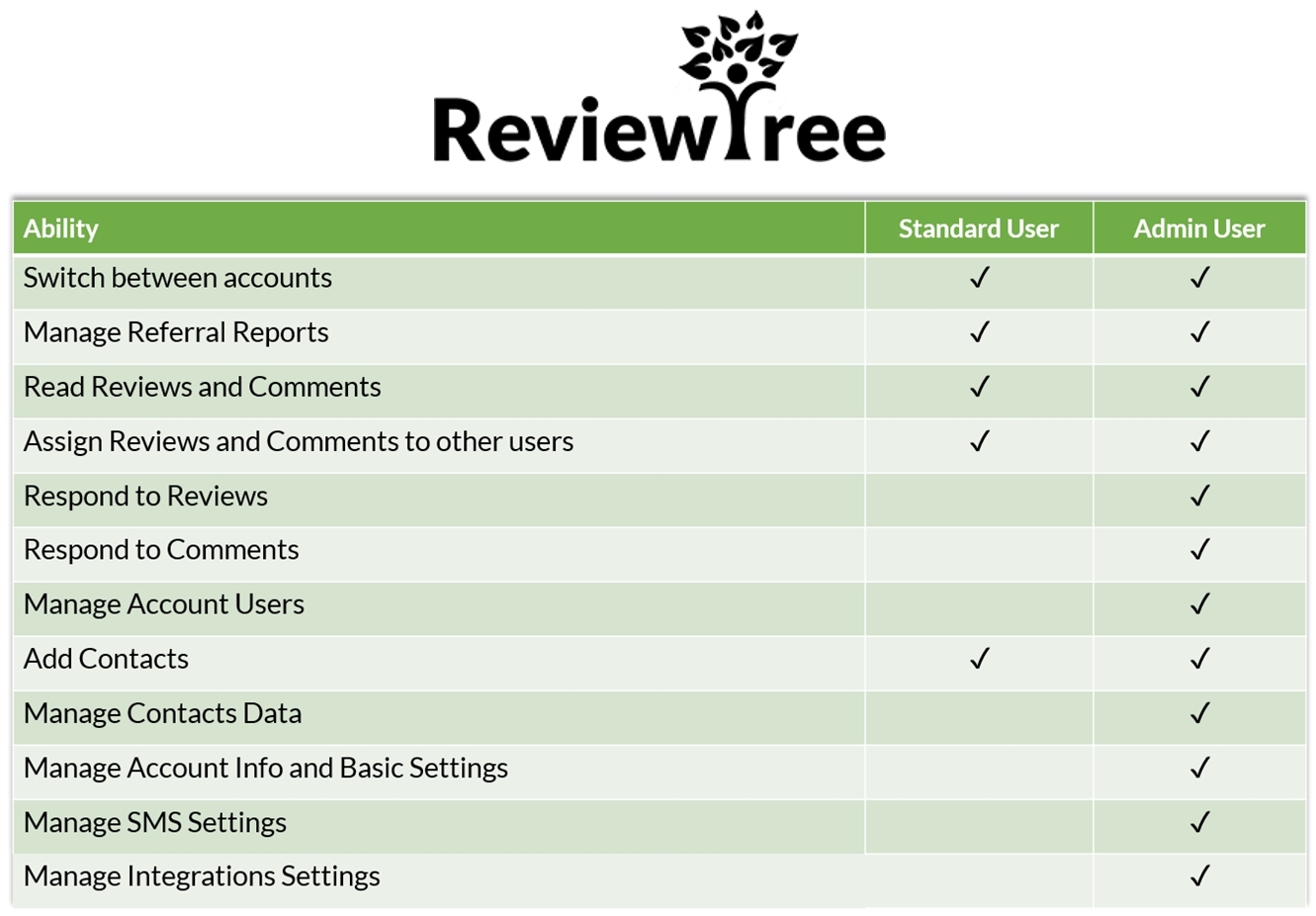 Related Articles

User Setup and User Notifications

Instructions for User Setup and User Notifications Click Here to View Help Video Adding Users There is no limit to the number of Users you may add to your system. We recommend users to not share login credentials so that you best utilize the comment ...

Adding User to Multiple Locations

Adding User to Multiple Locations If the "Organization" feature is enabled for a system, multiple ReviewTree system accounts can be linked together, with users having access to one or more of the linked systems. Steps to Add a User to Multiple ...

ezyVet Login from ReviewTree

ezyVet Login from ReviewTree For those systems with ezyVet integration, a user may add the ezyVet login URL to ReviewTree, which allows a user to review a client's ezyVet record for the client's recent appointment, in order to provide the comment ...

Client Feedback Reports

Steps to Access Client Feedback Report(s) Instantly At any time, you can select Response Report to view your client feedback report. This is data that comes directly from your surveys. While you may be signed up to receive these reports via email ...

ezyVet Integration Steps

ezyVet Integration With ezyVet Integration, appropriate client data from ezyVet is automatically uploaded to ReviewTree. Specifically, only clients who meet your standard for survey readiness are uploaded to ReviewTree. These Integration Settings can ...